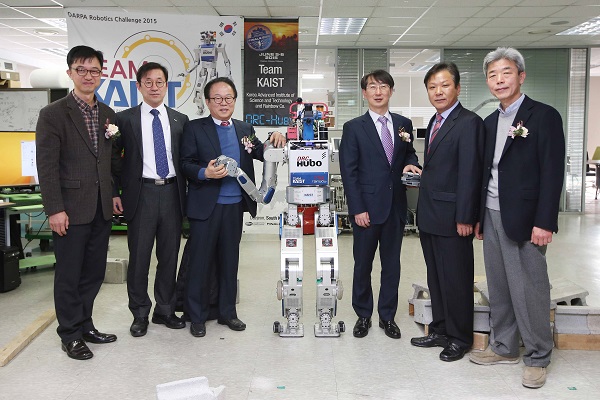 KAIST opened its Humanoid Robot Research Center on January 19 at the KAIST Institute. Endorsed by the Ministry of Trade, Industry and Energy with 15 billion KRW funding over five years, the center will conduct research for advancing humanoid robot technology and fostering research fellows in the field.
Professor Jun Ho Oh at the Department of Mechanical Engineering will serve as the director of the center. Team KAIST under Professor Oh won the 2015 DARPA Robotics Challenge (DRC) with its humanoid robot DRC-HUBO, beating 23 teams from six countries.
Professor Oh said, "I believe we have already achieved technological prowess through developing the HUBO robot over the past decade. The center will continue to strive for further development of original technology crucial for humanoid robots' key components. We want to pave the way for having enough of our own technology and needing to bring in technology from abroad. Professor Oh cited a high-efficiency· high-powered electric drive and hydraulic system humanoid robot capable of executing solid manipulability with high confidence and object recognition intelligence technology as the fields that his center will focus on." In addition, he said the center will develop module type and extended open software in an effort to disseminate robot technology.
(Photo from left: Kyong-Hoon Kim from Korea Evaluation Institute of Industrial Technology, Vice President of Research at KAIST Hee-Yoon Lee, Director Oh, Jong-Hwan Kim at the Ministry of Trade, Industry and Energy, President Ki-Han Park at the Korea Institute for Robot Industry Advancement, and Dean of KAIST Institute Yun Chol Chung.)