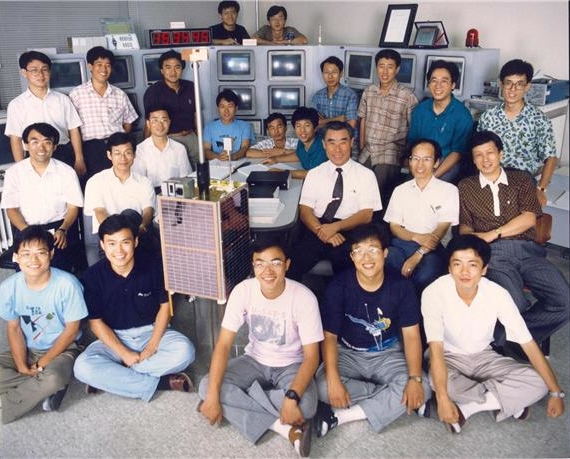 < SaTReC researchers who developed Korea's first satellite, KITSAT-1 >

The Satellite Technology Research Center (SaTReC) at KAIST, which launched the Korea's first satellite KITSAT-1, celebrated 30 years in operation last week. A ceremony in honor of this milestone was held on campus on October 30. With the launching of KITSAT-1 in 1992, SaTReC paved the way for space research in Korea, and helped the nation achieve technological independence and strengthen competitiveness in the field.
The ceremony was attended by over 100 affiliates from academia and industry, including the family of the late Dr. Soon-dal Choi, the first director of SaTReC also known as the father of the first Korean satellite KITSAT-1 (nicknamed "Our Star" in Korean). His family members traveled all the way from the US to Korea for the event. A plaque of appreciation was posthumously awarded to the family of former Director Choi in memory of his pioneering Korean satellite research.
Right after the establishment of SaTReC in 1989, Dr.Choi dispatched five KAIST students to the University of Surrey in the UK to develop the Korea's first satellite KITSAT-1 under a bilateral agreement for a joint research program.
KITSAT-1, completed in collaboration with Surrey researchers, was successfully launched from the Guiana Space Center in August 1992. Through this launch, Korea became the 22nd nation to own a satellite, and launched the domestically produced follow-up satellite KITSAT-2 in September 1993.
Since then, SaTReC has developed a total of nine satellites, including three in the KITSAT series in the 1990s as well as five STSATs and one Next-Generation Small Satellite in the 2000s. These satellites are still in operation today, thanks to SaTReC's constant maintenance.
SaTReC is still contributing to the verification of core space technologies and Earth and space observation technologies using small satellites. It is also training specialized personnel in national space research and development.
Most significantly, STSAT-2C, also commonly known as the Naro Science Satellite, was launched on January 30, 2013 and served an important role in allowing the first Korean launch vehicle Naro-1 (KSLV-1) to enter into orbit.
SaTReC researchers are now working on developing a Next-Generation Small Satellite named NEXTSat-2 that boasts a Synthetic Aperture Radar (SAR) system developed with domestic technology. NEXTSat-2 will be launched in 2022 from Korean soil, carried by a Korean launch vehicle developed with local technology.
Director of SaTReC Sejin Kwon said, "We will follow the noble spirit of the late Dr. Soon-dal Choi, who dedicated his entire life to the nation's satellite research and bolstered our commitment to the development of Korea's future space technology." He added, "We will pursue our dreams of space exploration with a sense of social responsibility to pay back to society the benefits reaped from space technology."
The ceremony was followed by a Future Space Technology Workshop, where eight KAIST professors participated as speakers.
< Timeline of Korea's Satellite Research and Development >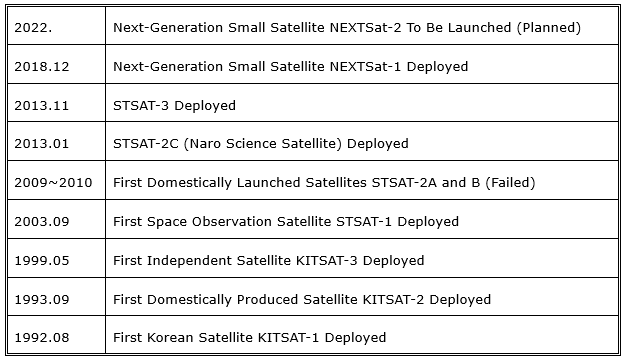 (END)