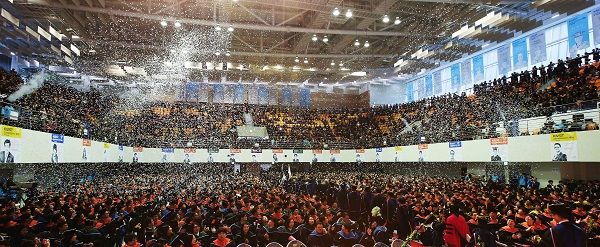 KAIST hosted its 2017 Commencement, awarding diplomas to 2,767 members of the Class of 2017 during a ceremony on February 17. President Sung-Mo Kang, Minister Yang-hee Choi of Science, ICT, and Future Planning, and Chairman of the KAIST Board of Trustees Jang-Moo Lee joined the ceremony along with the graduates and their family and friends at the Ryu Keun Chul Sports Complex.

The graduating class included 638 Ph.D. degrees, 1,335 Master's degrees, and 794 Bachelor's degrees being conferred. Among them, Young-Ki Song from the Department of Electric Engineering was honored to win the Minister's Award, the highest award bestowed to an undergraduate. The KAIST Presidential Award went to Min-Jae Park of the Department of Mathematical Sciences and the KAIST Board of Trustee Chairman's Award was presented to Jae-Hyung Cho from the Department of Mechanical Engineering.

Including this year's graduating class, KAIST has turned out more than 59,000 highly educated science and technology talents including 11,731 Ph.D.s since its foundation in 1971. This year, 24-year-old Seo-Hee Oh earned her Ph.D. in chemistry as the youngest Ph.D. of the year after completing her Master's and Ph.D. combined course in three years.

President Sung-Mo Kang praised the creativity of this graduating class and their excellent ability in his charge, saying, "As future leaders of our society, you are expected to develop a sense of compassion and outstanding professionalism to contribute to the advancement of not only Korea but also the whole world.'

For full text of President Kang's charge to the graduates, please click.