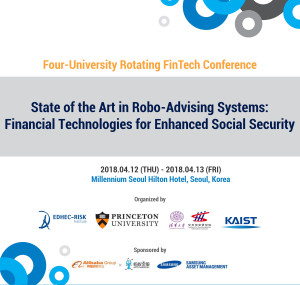 KAIST will be hosting a FinTech Conference with Princeton University (USA), Tsinghua University (China), and EDHEC Business School (France) in Seoul from April 12 to 13 titled State of the Art in Robo-Advising Systems: Financial Technologies for Enhanced Social Security.
The Bendhein Center for Finance and Department of Operations Research and Financial Engineering from Princeton University, Fintech Lab from Tsinghua University, and the Risk Institute from EDHEC will participate as co-hosting organizations in this conference organized by the Department of Industrial & Systems Engineering and the KAIST Center for Wealth Management Technologies.
The conference will discuss issues required for providing customized asset management to the public in terms of theory, technology, and industry.
During the conference, KAIST President Sung-Chul Shin and Chairman and CEO of the National Pension Service Sung Joo Kim will deliver welcoming addresses.
Professor John Mulvey from Princeton University, Professor Michael Dempster from Cambridge University, Professors Wei Xu and Changle Lin from Tsinghua University, Professor Lionel Martellini from EDHEC, and Professor Woo Chang Kim from KAIST are some of the invited speakers at the event.
Moreover, renowned experts in related fields will also participate in the conference, including Founder of Vanguard Group John Bogle, Jin Lee from Ant Financial, Youngsuh Cho from Shinhan Financial Group, Jung-Hwan Lee from Samsung Asset Management, and Hye Young Sung from the National Pension Service Research Institute.
Professor Kim said, "Only a small number of wealthy people can receive life-cycle customized asset management services due to the high cost structure; however, new technology derived from the Fourth Industrial Revolution can reduce the service price in an innovative manner, ultimately leading it to be popularized."
"In an era with the poverty rate of older people reaching almost 50%.Fintech can enable individuals to manage their assets in an active manner, reinforcing social security without additional social costs in the period," he added.
These four universities have been hosting the FinTech Conference since 2017. China will host the conference this fall, followed by France next year.