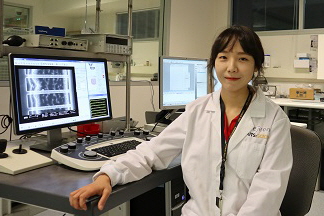 (Dr. Sejeong Kim)

Dr. Sejeong Kim, a postdoctoral research associate in the School of Mathematical and Physical Sciences at the University of Technology Sydney was honored to receive the Excellence Award for a Young Scientist by the Korea Federation of Women's Science & Technology Association (KOFWST). The award ceremony will be held on October 31 in Seoul.
KOFWST recognizes ten promising young female scientists and engineers every year who show significant potential, passion, and remarkable achievement in their work. The awardees are selected among those who finished their degree within the previous five years. Dr. Kim earned her Ph.D. in physics at KAIST in 2014 and was selected as the winner in the field of physics in recognition of her outstanding research activities in photonics.
Dr. Kim conducted various research activities in the field of photonics and was published in high impact journals including Nano Letters and Advanced materials. In July, she developed the first photonic cavity from van der Waals materials and published the study in Nature Communications titled "Photonic Crystal Cavities from Hexagonal Boron Nitride." At UTS, she carries out research activities supervised by Professor Igor Aharonovich and has engaged in many science outreach activities.