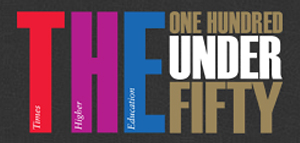 The Times Higher Education (THE) released on April 30, 2014 its annual ranking of 100 top universities whose history is under 50 years.
KAIST placed 3rd, holding the same spot from last year.
The (THE) 100 Under 50 ranking used 13 indicators across five factors to measure the performance of institutions: research, citations, teaching, international outlook, and industry income. The indicators included research volume and income, reputation, learning environment, staff-to-student ratio, scholarly papers produced, and the percentage of international staff as part of the institution's faculty.
Phil Baty, editor of the Times ranking, compared younger and older universities as follows:
"Young universities are free to be more agile, lean, and risk-taking, giving them an advantage in a rapidly changing global marketplace. They are also free to offer innovative teaching and focus their research in niche, high-impact areas."
KAIST and Pohang University of Science and Technology (ranked first) are the only Korean universities that made the ranking list.
For the full list, please go to:
http://www.timeshighereducation.co.uk/world-university-rankings/2014/one-hundred-under-fifty
This information was provided by the Times Higher Education 100 Under 50.