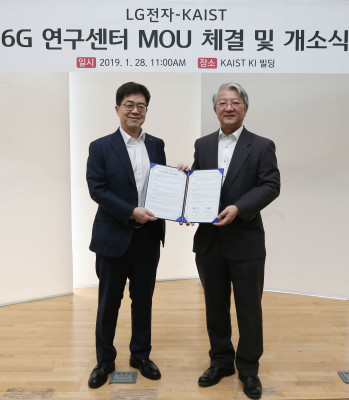 (LG Electronics CTO Il-Pyung Park (left) and Dean of KAIST Institute Sang Yup Lee)
KAIST and LG Electronics are working together to take the lead in next-generation wireless communications and launched the LG-KAIST 6G Research Center on January 28, 2019.
KAIST Institute has been focusing on developing a new growth engine for the national economy through interdisciplinary research. In particular, its research work in the field of next-generation wireless communication was listed in the National Research and Development Excellence 100 in 2016 and 2017.
LG Electronics has been a global leader in this field for many years. According to TechIPM, the company had the most 4G LTE/LTE-A patents from 2012 to 2016. Also, it first standardized the Cellular Vehicle-to-Everything, which is the core technology for autonomous vehicles.
The new head of the research center, Professor Dong Ho Cho from the School of Electrical Engineering said, "We will work on developing source technology for sixth generation mobile communications, which will enhance national competence and prepare for the future industries."
CTO of LG Electronics Il-Pyung Park said, "We are hoping to take the lead in the global standardization of sixth generation wireless communications and secure new business opportunities."