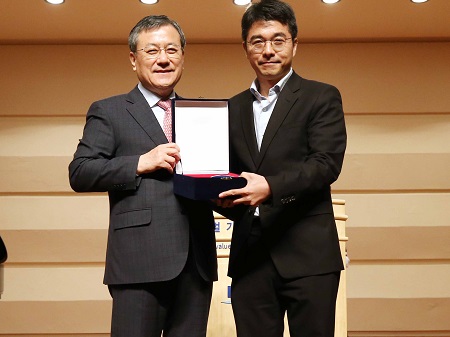 (Professor Jeong-Ho Lee (right) poses with President Sung-Chul Shin)
Professor Jeong-Ho Lee from the Graduate School of Medical Science and Engineering was selected as the KAISTian of the Year of 2018. The award was established in 2001 and recognizes the most outstanding scholars who have made significant research and scholastic achievements during the year. Professor Lee was awarded during the New Year ceremony held in the auditorium on January 2.

Professor Lee has investigated mutations arising in the brain for decades and has published in renowned journals such as Nature, Nature Medicine, and Cell. Last August, Professor Lee reported breakthrough research on glioblastoma in Nature, giving insight into understanding how the mutation causing glioblastoma starts and suggested novel ways to treat glioblastoma, which was thought to be incurable. (Click for more)

Professor Lee's Translational Neurogenetics Laboratory lab is investigating innovative diagnostics and therapeutics for untreatable brain disorders including intractable epilepsy and glioblastoma. To commercialize his technology, he established the tech-startup SoVarGen and now works as its CTO.

Professor Lee credited all his lab colleagues and staff. "I know all of this research would not have possible without their sweat and effort. I am happy to receive this honorable award on behalf of them."

Remembering the beginning of his career at KAIST in 2012, Professor Lee said "KAIST seemed to be a very high and formidable barrier for me, after completing my medical education in Korea. I thank my department professors and colleagues who led me to focus on the research path that I really wanted. They provided everything for my research environment to help make good results."

"I will continue to strive for promoting the well-being of humanity by addressing various incurable diseases as well as developing novel therapeutics. That will be the way to promote the stature of KAIST at home and abroad," he added.